Heritage
2017
2016
2015
2015
2015
2014
2013
2012
2012
2008
2008
2005
2004
2004
2002
1999
1997
1992
Early 90's
1987
1986
1983
1982
1978
1978
1960
1959
1957
1952



Queens Award
Received Queen's Award for Innovation
Product launch
Launched two new disposable injection pens for infertility
Red Dot Award
Awarded the prestigious Red Dot award for Product Design for Unifine® Pentips® Plus.
Product launch
Launched the next generation of home lancing devices; Autolet® Plus.
Product launch
Launched Autolet® the world's first automatic lancing device.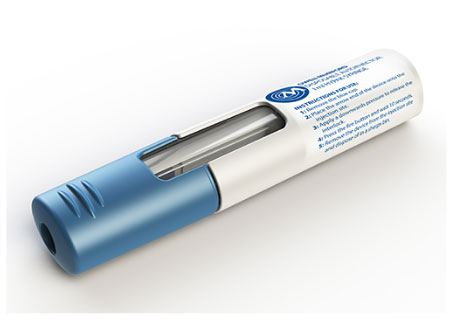 We continue to push the boundaries of medical device design – paving the way for a future of cutting-edge technology, successful partnership and meaningful innovation for patients.
Product launch
Extavipro®30G launches aiming to change the administration of disease modifying therapies in Multiple Sclerosis. The new device combines ergonomic design with injection comfort, assisting patients with limited grip and reducing pain by using the thinnest needle possible.
60 years
Owen Mumford marks the milestone of 60 years of leadership in the medical device industry.
60 years
Working in partnership with you, we have over six decades of innovation and firsts, but there are many more to come. The future of our company and our partnership with you has yet to be written.
Queens Award
International recognition with two Queen's Awards for Enterprise, demonstrating innovation and the capability to deliver to clients not just on a national, but global level.
Queens Award
An incredibly special year for us. We are recognised for our willingness to innovate partner solutions, winning two prestigious Queen's awards for international trade and innovation.
Product launch
Our partners ask for a lancing device giving practitioners complete control over the sampling procedure. Unistik® 3 is launched, the first ergonomically-designed, single-use, lancet device incorporating both Comfort Zone Technology® and a side-firing button.
New technology
We introduce Comfort Zone Technology®, based on the patented pain masking mechanism of Gate Theory of Pain. The new technology is used in the Autolet® Impression—an ergonomically designed lancing device focussed on comfort and adherence.
New technology
Following customer requests and feedback for a device to increase patient adherence and make sampling more comfortable, we patent Comfort Zone Technology®, based on the Gate Theory of Pain. The technology is incorporated into the Autolet® Impression, an ergonomic blood sampling device to maximise patient use.
50 years
Owen Mumford proudly celebrates 50 years of designing and manufacturing innovative medical devices.
Product launch
Neuropen® is launched—the first dual purpose, conveniently-sized neuropathy screening device to measure sensation in both small and large nerve fibres. The device ensures patients received the most efficient and easy screening programme possible.
Recognition
Owen Mumford recognised by the Sunday Times as a dependable and reliable business with an impeccable financial record and long-term business strategy.
Growing success
With growing success in the medical device industry, we cease working in injection trade moulding, directing our energy toward exceptional medical devices.
Product launch
Our partners need a way to make blood sampling safe, easy and cost effective. To meet this need, we launch Unistik® 2, the first single-use lancing device. Unistik® 2 helps practitioners minimise needle-stick injuries and cross contamination. The Unistik® 2 is so successful, our partners request multiple sizes of the device to give patients added comfort.
Product launch
Pharmaceutical firms consult us seeking a convenient device to deliver insulin using a cartridge rather than a syringe-based mechanism. The solution is the Autopen®, a unique cartridge-based delivery device for diabetes care.
Product launch
The first Autoinjector™ drug delivery system was produced. This device transformed drug administration for patients, incorporating trigger spring technology, enhancing ease of use and increasing patient adherence.
Product launch
Following partner requests for an efficacious and cost-effective injecting device, we design the world's first plastic auto-injector to provide savings and better access for patients.
New product range
We enter the world of disposable lancets with the introduction of the Unilet® range. The range is so successful that to date there are five different versions of this lancet, making it one of Owen Mumford's best-selling devices.
Ground breaking product
Robert Turner and Rury Holman of the Radliffe Infirmary help us develop our first ground-breaking product – the Autolet®, the world's first blood sampling lancet device. It changes the landscape of blood glucose testing and emphasises how trusted partnerships lead to medical device innovation. For the very first time, our partners offer patients a way to monitor blood glucose levels at home.
Ground breaking product
Owen Mumford launches Autolet®, the world's first automatic lancing device, revolutionising blood glucose sampling. This makes the lancing procedure less burdensome, enabling patients to test their blood glucose levels at home.
Expansion
A decade of change for Owen Mumford. We expand our premises to an old glove factory in Woodstock, Oxfordshire. Although we continue to manufacture anaesthetic equipment, we expand into trade injection moulding, creating moulds for a variety of products.
Collaboration
Owen Mumford designs a refined version of the revolutionary Macintosh laryngoscope used in larynx examinations. We collaborate with Professor Robert Macintosh, a professor of anaesthetics, who suggests improvements to its design, which we incorporate into the device.
Breakthrough product
In conjunction with the Nuffield Department of Anaesthetics, we design the breakthrough product, the Oxford Inflating Bellows, which is widely distributed (2,000 units). To meet growing customer demand, we move our company to Woodstock near Oxford in the UK. Our numbers expand and so does investment – allowing us to grow current partnerships and establish new ones.
The beginning
Ivan Owen and John Mumford start building hospital furniture and equipment from a modestly-sized lock-up garage owned by Ivan's father.