Unifine® Pentips® Plus
Worlds first integrated pen needle system
Unifine® Pentips® Plus is the world's first integrated pen needle system that utilises the same high quality needles as Unifine® Pentips® but also features an integrated needle removal chamber which offers a convenient option for interim needle disposal after use
Convenience at your disposal
Experts agree that the most accurate routine when using injection pens is the immediate removal of the pen needle after injection and replacement with a new needle just prior to injection1,2.
In a study for Owen Mumford by HRW Ltd, Unifine® Pentips® Plus increases needle change when compared to the users existing needle,3 following a good injection routine can help lower the risk of complications associated with needle reuse.4
Unifine® Pentips® Plus uses unique Safe Click Technology™ that indicates when used needles are disposed into the locking chamber, providing a convenient solution for needle disposal on-the-go.
Unifine® Pentips®Plus are compatible with all major diabetes medication pens.
Specification – Unifine® Pentips® Plus
| | | | | | |
| --- | --- | --- | --- | --- | --- |
| Needle length | 4mm | 5mm | 6mm | 8mm | 12mm |
| Needle Gauge | 32G 33G | 30G 31G | 31G | 31G | 29G |
References
1. Trend UK, Injection Technique Matters; Best Practice Guideline to support Correct Injection Technique in Diabetes Care, 2018.
2. Ginsberg B.H., J.L. Parkes, C. Sparacino: The kinetics of insulin administration by insulin pens. Horm. Metab. Res. 26: 584-587 (1994).
3. Study by Healthcare Research Worldwide. (2013).
4. Torrance T. An unexpected hazard of injectable therapy injection. Practical Diabetes International 2002;19:63.
5. Basal thumb arthritis, Richard Dias, Jeevan Chandrasenan, Vaikunthan Rajaratnam, Frank D Burke. Postgrad Med J 2007;83:40-43. Doi: 10.1136/pgmj.046300
Click on the +numbered icons to discover more about the device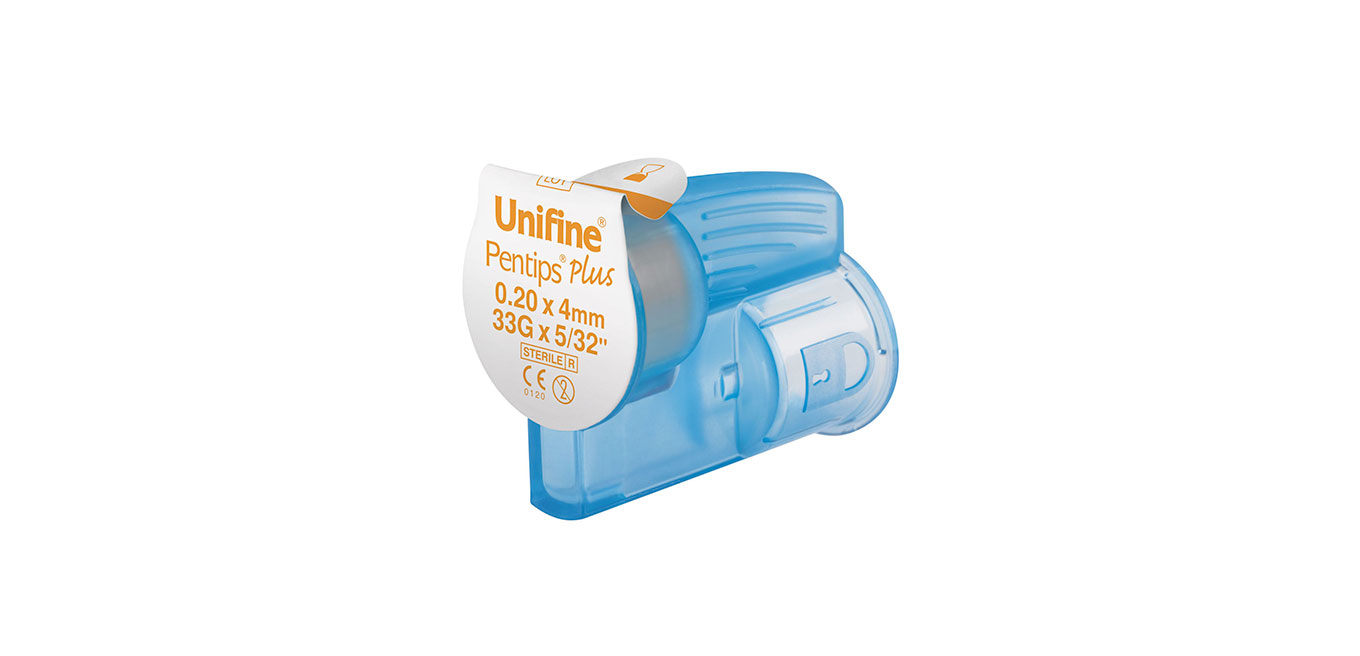 1
UNIFINE® PENTIPS® PLUS
Uses exclusive Safety-Click Technology™ to indicate that used needles are safely disposed.
2
UNIFINE® PENTIPS® PLUS
Built-in locking chamber designed to hold used needles until disposal.
3
UNIFINE® PENTIPS® PLUS
Easy, hassle-free needle removal.