Quality & Regulatory




Quality
Your device plays an integral role in people's lives, and every associate at Owen Mumford bears responsibility for the quality of our products. The Quality team maintains the quality ethos and operates independently from manufacturing, development, and sales to achieve true objectivity.
Thanks to our design and build capability, your project is subject to the same quality management system throughout its development – and into production. This assures greater consistency and potentially fewer complications than more fragmented approaches.
Product testing guarantees the quality of your device, and is implemented from your first prototype, throughout its development, and during production. This includes material testing, usability engineering, full process validation, benchmark testing and in-line functional testing
Rest assured that we are fully accredited, and our processes are compliant with all relevant standards.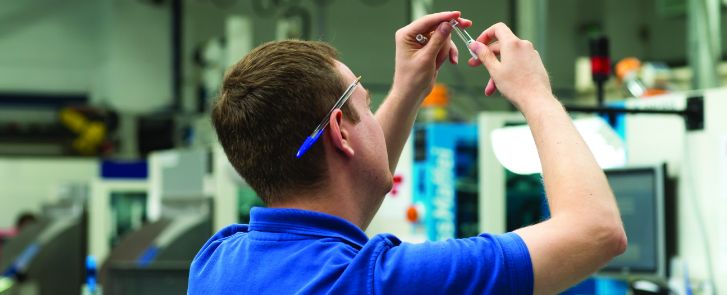 Accreditation and standards
We adhere to all relevant international standardisation guidelines, including:
International Organisation for Standardisation ISO 13485.2016
Medical Device Directive MDD 93/42/EEC Annex II
Food & Drug Administration (FDA) 21 CFR Part 4, 11, 210, 211 and 820
MDSAP (ISO 13485:2016)
Medical Device Regulation 2017/745
Regulatory submissions
Regulatory submissions can sometimes feel daunting. We see it as part of our job to help you navigate through this process.
Your product will be developed and manufactured in accordance with all applicable regulatory guidelines. We carefully establish and maintain Design History Files, the Device Master Record, the Technical file, and provide Risk Management Files.
With decades of experience in regulatory submissions, we can if needed, assist with regulatory strategy and submissions. This can include technical files under the Medical Device Regulation, 510(k) submissions to the US FDA and support of combination product submissions in the form of technical documentation and Device Master Files.

Due diligence
Our locations are audited and inspected multiple times each year, and our customers are also welcome to inspect our premises. We have an excellent compliance record for ISO 13485 requirements, and our quality team continually helps drive improvements, which is beneficial for both you and your end users.

Post-launch support
After launch, a dedicated account manager will work with you to ensure your on-going needs are satisfied and to ensure that good communication continues. By collecting feedback from end users, our corporate partners, medical professionals, and trade associations, we are always aware of the latest market changes.
We can help you find unique ways to market your product as well as help you continually innovate and improve. This may include evolving a successful device to meet your changing needs or planning a next generation solution.
We take partnerships seriously. From packaging through production, we are with you all the way.