UniSafe® 1mL Auto-injector
A reusable, mechanical, companion auto-injector for UniSafe® 1mL safety syringe available with optional connectivity*
Sustainability
Sustainability
Reliability
Reliability
Patient-centric design
Patient-centric design
Connectivity
Connectivity
Sustainability
Reducing waste and environmental impact
UniSafe® 1mL Auto-injector's reusable design reduces waste and environmental impact compared to typical usage with disposable auto-injectors. UniSafe® 1mL safety syringe is the only disposable part and weighs only 5g which is significantly less than cassette system designs.
UniSafe® 1mL Auto-injector electronics are housed in the lid and the device can be disassembled for separate disposal and recycling of parts.
A life cycle analysis has been conducted for UniSafe® 1mL Auto-injector to help understand the environmental impacts of materials, manufacturing, and transportation of the device. Using this information will help us to improve and optimise the device design and supply chain in the future.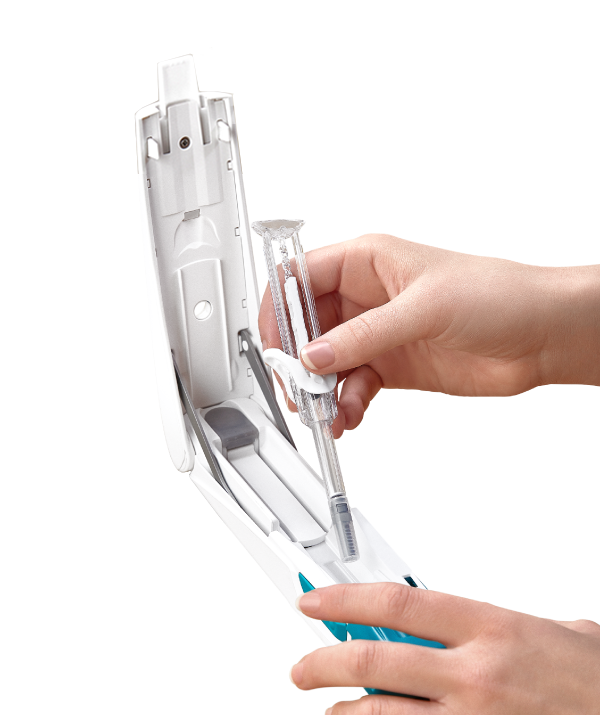 Specification
| | | |
| --- | --- | --- |
| Description | | Details |
| Dimensions and weight | | L=199mm (with cap) W=49mm H=40mm Weight=170g UniSafe®=1mL 5g |
| Passive needle safety | | Needle shroud on UniSafe® syringe automatically deployed during auto-injector use |
| Primary container/syringe type | | Standard glass cropped (cut) flange assembled in UniSafe® 1mL safety syringe |
| Syringe size and fill volume | | 0.2 – 1.0 mL in UniSafe® 1mL safety syringe |
| Needle insertion and drug delivery | | Automatic, pressure activation with mechanical drug delivery |
| Needle type and gauge | | Up to 29G TW – dependent on drug fill, viscosity and injection time |
| Needle insertion depth (subcutaneous) | | Set to inject at 6.5 mm +/-1.5mm |
| Needle shield type | | Rigid needle shield (removed and retained by auto-injector cap, with user release) |
| Injection angle | | 90° |
| Start and end of dose notification | | Visual continuous LED confirmation during dose delivery plus mechanical flag and distinct audible alert at end of dose – can be adjusted to individual drug specific hold time |
| Connectivity and power (LED and Bluetooth®) | | Bluetooth® and life-time battery (4 years after manufacture) – automatic data transfer on Bluetooth® connection |
| Data storage (connected option) | | Automatic dose history storage for lifetime of product (over 1000 records) even during power loss |
Click on the +numbered icons to discover more about the device

1
Ergonomic safety cap with inbuilt RNS remover
2
Continuous dose progression LED indicator
3
Lid remains locked while device is in use
4
UniSafe® 1mL secured inside the auto-injector. Device will not function if UniSafe® is not inserted or positioned correctly
5
Mechanical yellow 'flag' confirms dose completion (no power needed)
6
Bluetooth® connectivity indicator
7
Plunger sensing technology to confirm dose delivery
8
Electronics housed in lid for separate disposal
9
Hidden needle helps with needle phobias
10
Contoured ergonomic shape and design for ease of use across multiple patient demographics
11
Automatic mechanical priming on opening and closing of lid
12
Smooth facia for product branding

2
Latch to secure lid and facilitate opening
3
Cap removes syringe RNS
4
UniSafe® 1mL safety syringe