UniSafe® 1mL & 2.25mL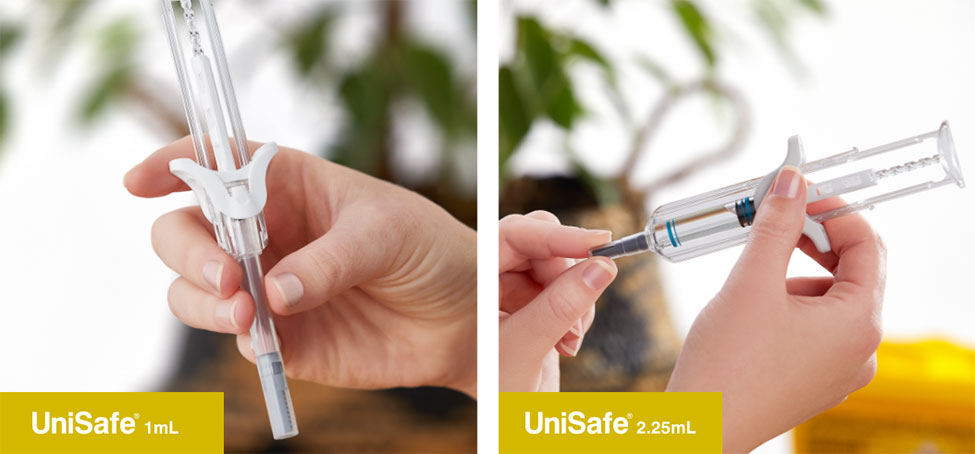 Benefits of safety devices for patients
Modern healthcare systems around the world are focusing on patient self-administration of medication to alleviate mounting pressure on hospitals and other healthcare facilities. For the treatment of many chronic diseases, subcutaneous (as opposed to intravenous) administration of biologic therapies is now the preferred method, where feasible. This is partly because it allows patients to safely administer their own treatment at home.
Without doubt, the trend towards patient self-treatment is being accelerated by the global pandemic and the ongoing need for social distancing in a healthcare context, especially the increased requirement for remote patient consultations. This has led to higher-than-ever demand for intuitive safety-engineered drug delivery devices that patients and healthcare workers can truly trust.
Owen Mumford Pharmaceutical Services has developed UniSafe® 1mL & 2.25mL safety devices for prefilled syringes, with a range of safety features designed to give patients greater confidence, ensure accurate dosage, and minimise risk of needlestick injury.
Designed to deliver a range of safety benefits for patients.
Prevent needlestick injuries
UniSafe® 1mL & 2.25mL devices have a safety shroud that fully encases the needle and is automatically positioned as the patient or healthcare worker carries out the injection. Once the plunger is fully depressed, the device's safety mechanism is automatically deployed, and the needle retracts into the safety shroud. Patients are immediately protected from the risk of needlestick injury as the needle is no longer exposed once the injection is completed.
Increased patient confidence
Uniquely, UniSafe has been designed without an internal spring, so the syringe barrel remains unobscured both before and during the administration procedure. This means patients can visually check the contents of the syringe before use and confirm the full dose has been delivered after the injection. This is an important factor, especially given the small doses of some drugs required for subcutaneous administration. Additionally, due to the integrated secure plunger design, patients can also be confident that devices cannot be reused or accidentally activated when removed from the packaging.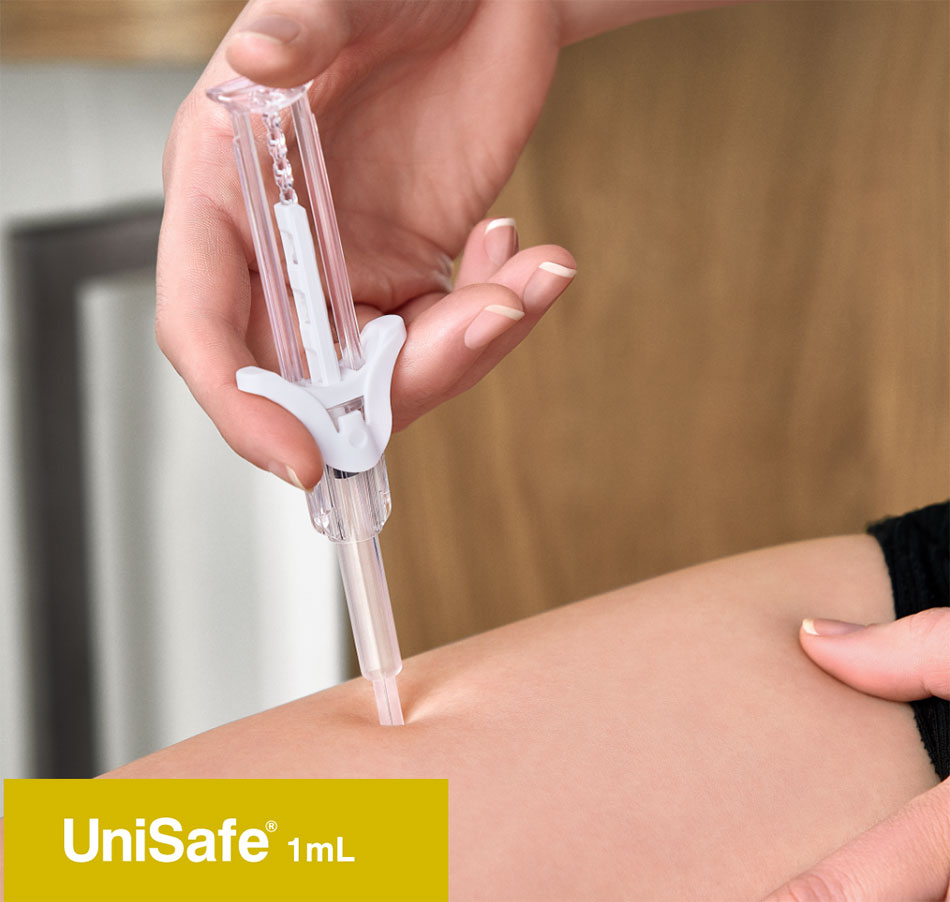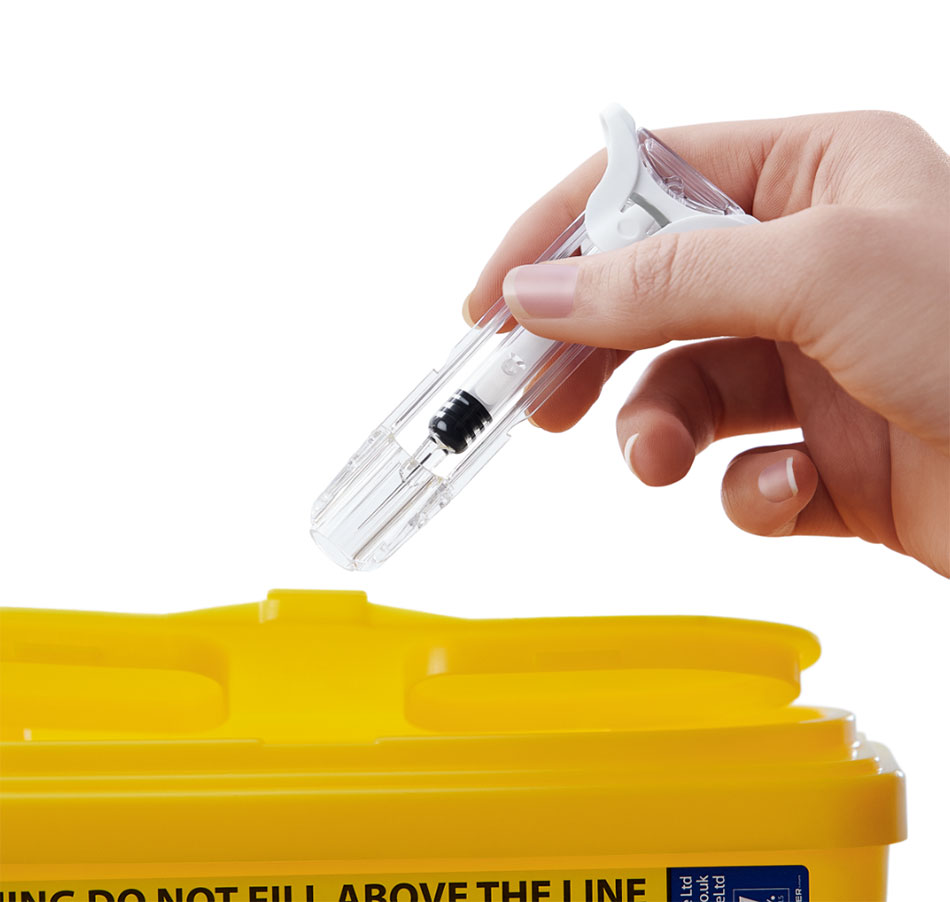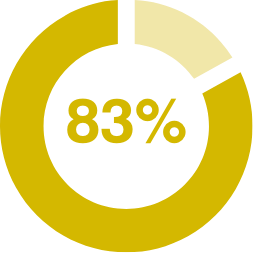 In a study conducted by an independent research group, 83 percent of patients agreed they would feel confident using the device to self-administer treatments.*
Provide reassurance
This integrated, spring-free and streamlined design is considered more reassuring, while the device's appearance is less complex, and unintimidating, helping to make it more likely to be accepted and used by a wider range of patients.
Help patients with limited dexterity
Self-administering patients with conditions that compromise their dexterity, such as rheumatoid arthritis or multiple sclerosis, require delivery devices that are easy to hold securely and comfortably during administration. To help patients with strength and dexterity impairment, optional extended finger flanges are available for the UniSafe® 1mL. This ensures patients can use the device regardless of hand size or strength, making the device suitable for a wide range of patients, including the elderly and infirm.
Make self-administration more intuitive
It is important that medical devices used for self-administration are intuitive, which is why the injection technique for UniSafe® 1mL & 2.25mL devices is the same as a conventional syringe with no additional steps for the patient. The large, ergonomically designed rear plunger head and smooth, integrated finger flange make injections more comfortable and easier, helping to control the amount of pressure needed for the length of time it takes to complete the injection.
*CMR Research Report, April 2017 (n = 57 patients)