Q&A with Garry Hodges, Group Operations Director
August 2020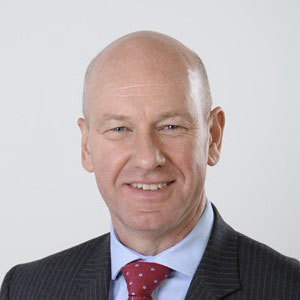 We have been talking to Garry Hodges, our Group Operations Director. Garry has spent 30 years working in the Pharmaceutical and Healthcare sector, delivering successful development, industrialisation and launch of new products, facility build and new site establishment and supply chain establishment and optimisation.
What changes have you had to implement in your role in the past months as a result of the pandemic?
The main change we have had to implement over the last few months is to get as many of the teams as possible across Operations to be working from home. Both for their well-being but also, equally importantly, to help protect those who have to remain at site due to their direct hands-on production roles. We've had to adopt significant new ways of working, not just the use of technology to maintain meeting schedules and assist interaction and discussion, but the way in which physical work is performed. For example; new hand operated assembly equipment has been redirected from the suppliers to Development Engineers homes, for them to conduct qualification and commissioning tests and activities on the kitchen table!
The site-based teams have delivered exceptional performance over this period. We haven't missed a beat when it comes to meeting demand, and we saw some significant increases in certain areas. For example, to support the establishment of Nightingale hospitals in the UK and responding to the needs of diagnostic kit manufacturers for COVID related test kits and maintaining our customers service performance throughout. The site-based teams implemented numerous new ways of working from social distancing measures, one-way systems for walking around the production areas, cleaning and sanitising processes, modified materials handling processes etc.
What are some of the key activities you have underway that will help our customers?
There are many, but all contribute in one way or another to greater flexibility, responsiveness and reliability of supply. Significant improvements have been made over the last couple of years in our customer service performance and whilst this is now excellent, we continue to look to improve upon this. For example, by looking for reduced cycle and lead-times, increases in equipment reliability and waste reduction, improvements in supply chain data and information management processes e.g. forecasting and forecast accuracy, IBP process and associated communication and information provision processes.
What excites you most about the future for Owen Mumford Pharmaceutical Services?
There are many new drug delivery products, including safety syringes and auto injectors, in the process of being launched, in development or in concept which excite me enormously. Some of these are platform products, and some are bespoke offerings and product developments with individual customers to meet their specific drug or market needs. Some of these projects also include us developing and expanding our service offering beyond the core capabilities and strengths such as product design, development and manufacturing, into areas of supply chain management, cold chain management, final combination drug product assembly, etc.