Q&A with Paul Smith, Group Quality & Regulatory Affairs Director
July 2020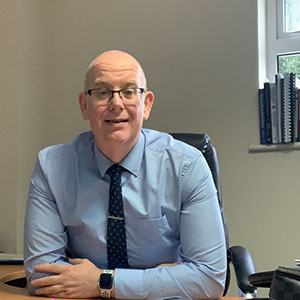 We have been talking to Paul Smith, our Group Quality & Regulatory Affairs Director. Paul has been at Owen Mumford for over seven years and heads up both Regulatory functions as well as the Quality department. He is a member of the Owen Mumford executive board and as such has been key in supporting the business in adapting during the current pandemic. We were thrilled to have the opportunity to discuss his key activities, and the future of Owen Mumford Pharmaceutical Services with him!
What changes have you had to implement in your role in the past months, as a result of the pandemic?
The main change I have had to implement over the last few months is getting as many of the team as possible to be working from home, for both their wellbeing and to help protect those across the whole business who are required to be on site to keep the business fully operational. There was also the added challenge of ensuring that our Quality Management System (QMS) remained functional to support the way the business needed to change rapidly. With a fantastic team, some flexibility and creative thinking, we have been successful in getting a very high proportion of the team working from home whilst maintaining the level of GMP that is essential for our range of drug delivery and diagnostic products.
We even managed to have the first part of our Notified Body MDSAP surveillance audit all done remotely using various technology and we had a very positive outcome from that.
What are some of the key activities you have underway that will help our customers?
The key activity to help our customers is ensuring our products are of the highest quality and function as required, when required – this aligns with our Quality Policy which has the objective of 'delighting our customers'.
It is a very 'exciting' time for quality and regulatory affairs within our industry with the Medical Device Regulation (2017/745 (MDR) coming into effect, albeit delayed by 12 months – we were very much on plan and ready if it had been implemented this year. We are also using it as trigger to review what we do and how we do things, to be as efficient as we can to support the operations team, R&D and our sales teams, to deliver new plus existing drug delivery and diagnostic products to our customers.
We are constantly reviewing and challenging the robustness of the QMS (which is at the core of ensuring we are compliant and deliver the products to the best possible quality standards). However, a current focus is to ensure the processes are as efficient as possible (such as focusing on risk management, post market surveillance and design controls), the tools are up to date and deliver a system that meets best practise.
What excites you most about the future for Owen Mumford Pharmaceutical Services?
The new products such as safety syringes coming through development and ideas going through the feasibility stage are really exciting, bringing lots of new opportunities and challenges with them – the most exciting part being that they will be building on the areas that Owen Mumford have traditionally done, such as auto injectors but expanding them in new ways.  One of the most exciting aspects is seeing the new customers the products are bringing to us or how new doors are opening up at existing customers, allowing us to form new partnerships and learn more about different approaches etc.
The new product platforms for safety syringes and auto injectors coming through create many opportunities for Owen Mumford. Primarily to offer the expertise we have in different ways and using the new products and Owen Mumford Pharmaceutical Services to showcase what Owen Mumford is all about. For us to really make a difference to patients is very exciting.